Matthew Neer introduced Viral Cash App which makes you a lot of money by exploiting $70 billion free traffic through sharing viral videos. He said that Youtube and Facebook makes a lot of money when people watching videos on those platforms, is it true?
Can this app help you a lot of money by sharing viral videos? How do you want to share those viral videos and where you want to find the viral videos?
Why the content of Viral Cash App teaches you about Amazon Associates and ClickBank which are the biggest affiliate network in this world when he said you could make money just give people watching your viral videos?
A lot of question arises about this app. So, let's read my review about Viral Cash App. I'll walk you through the content below.
CONTENT:
---
Program Name: Viral Cash App
Website: viralcashapp.com
Price: $47/$24.95/$9.99 + Upsells (total $490)
Owner: Matthew Neer
My Recommendation: NO, It's doesn't work!

---
WHAT DOES VIRAL CASH APP OFFER YOU?
Matthew Neer said that you could make money by sharing viral videos to your media social especially Facebook through his app, Viral Cash App. Well, maybe he is correct since Youtube make money when people watch their videos, right? Well, I'll go through the explanation according to these content:
Surface Part Of Viral Cash App
As you might already know, Viral Cash App is an online application for you to make money with. By using this app, you could make money as how Youtube and Facebook making money when people watching videos on those platforms.
You could exploit $70 billion traffic source to your viral video and make money from it. This viral app doesn't have any relation with bitcoin and cryptocurrency, paid advertisement, paid surveys, SEO, Ecommerce and MLM.
Well, yeah. Sharing videos have nothing to do with those things. Just take any viral videos and share to your FB profile. That's it and you can make money with it. You can even earn a stable income with this viral app.3
But you know, Youtube and Facebook not making money when people watch videos on their platform. They make money through display ads and you'll be taught how to insert display ads and affiliate link to your viral videos.
How about the registration price? Okay, on the sales page, the cost is $47. But, once you're trying to leave the site, they will give you some discount which makes the cost $24.95. And when you're trying to leave again, they'll give you some more discount which makes the cost $9.90.
I've found some flaw with this app on the surface part especially the part you can make stable income and more money with this app. But, I'll show them later.
Most of the surface part you'll find in their sales video. But, the most important things is the hidden untold part which might cost you a lot to make money with this app.

Untold Secret Behind Viral Cash App
Who cares about the surface part since you already know from the sales video, right? Okay, here's come the important part of this app and this might the only reason why you come here, right?
Once you pay for this viral app, you'll be given the membership to access the online application that Matthew talks about in his sales video. You'll have access to some training that might helps you making money online.
Those pieces of training are good but if you notice, you need to learn about Google Adsense, Amazon Associates, and ClickBank. Amazon and ClickBank is the place you'll get the affiliate link. Google Adsense is where you'll learn about Display Ads.
So, you'll not be making money simply let people watching your viral videos. You need them to buy and click the ads displayed around the video.
In the online app, I don't know why the PAID MEMBERSHIP will be presented with ads. If you pay to a system, would you want to see ads? In fact, you won't see any ads on paid mobile apps, right?
So, the owner just wants to make money from you by showing you ads. If you're interested and buy anything from the ads, which nothing related to the viral app, they make money.
The last thing you need to consider, the upsells and downsells. As usual, the owner will not give you full access to the viral cash app. Or, you won't make much money with this viral app unless you buy all the upsells and downsells.
There has 3 upsells after the first payment you've done to buy this app. So, the total will be $490. And you'll make nothing from $490 because of this app never work! So these are the things inside the viral cash app.

---
HOW VIRAL CASH APP HELPS YOU TO MAKE MONEY?
Well, if the untold secret about this app doesn't change your mind to using this app, let me show you how you could make money with this app. But, honestly, I don't know if you could make more money.
Once you buy the app and you'll go through to the training. Then, you'll need to follow these step to get started.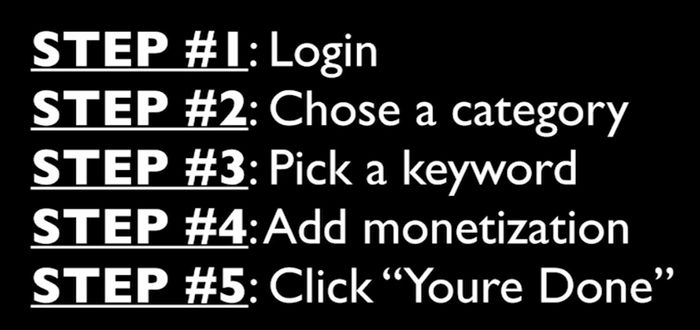 To use this app, you'll need to find any viral videos from Youtube. Then, insert the video in the website that already prepared in this app. Then, register Amazon Associate and ClickBank.
Using affiliate link from ClickBank and Amazon Associate, you need to display ads around your website that has been provided in the apps. So, if someone buys the product through the ads that you display around the videos, you'll get paid.
So, that's the only way you can make money with this app. You can't make money simply make people watching your videos. You need to make sure they buy the product from the ads around the videos.
But, there has some flaw in this technique which is people doesn't automatically buy the product from ads by watching the videos. In fact, you'll skip all the ads that shown in the Youtube, right?
That's how you make money with this app.

---
WHY YOU SHOULD AVOID VIRAL CASH APP?
Why would I suggest a money making apps that won't work to my reader, right? Well, I have a few good reasons for this. You can watch the Youtube video from Ipoop Cash talks about Viral Cash App.
First, there is NO TRAFFIC. Well, you'll get a website which consists of the viral videos that you grab from Youtube, right? But, the question here, how you can attract people to watch your videos on the website?
The training doesn't teach anything about Search Engine Optimization (SEO) which is the best way to get FREE traffic and they also don't teach you about paid ads. The only way for you to find people to watch your videos are sharing those videos from website to your own social media.
But, the problem here is the videos you use already been watched on Youtube with millions of view. So, there are high chances that your Facebook friend already watch the video.
And even though they watch the videos, they most likely won't buy any product that has been displayed around the videos. They're not your targetted customer that highly potential buy the product.
The worst part is, you only have a few thousand Facebook friends which makes it hard for you to make money. To make money with your displayed ads, you need more than a few thousand watches and click your videos.
1 more thing I really don't like about this app is the upsells. You need to pay more than double of the first payment with 3 more level of upsells. Obviously, you won't have full access to the app since you need to buy all the upsells.
And, most probably you'll make money only when you buy all the upsells which in total $490 (almost $500). So, do you want to pay that amount of money just to make a few cents per month?
So, my last verdict about viral cash app is NO! Definitely a NO! If you truly want to make money from videos, make your own Youtube channel and upload your own videos. If your video goes viral which is a lot easier to get viral with our own video lately, you'll be paid from Youtube legally.

---
TRY THIS NON – APP METHOD INSTEAD
Actually, there has a lot of other alternatives for you to make money with videos. It doesn't need to be a viral video. Just take out your own unique video such as travelling video, daily life video, gaming video, food hunt video, etc. Then upload to Youtube.
When people trying to search for it, you'll get a few views at the beginning. But, will gradually increase in future. When your views increasing, Youtube will pay you legally.
Honestly, I don't really know how to be a good Youtuber and make money with Youtube. But I know how you could make money as an affiliate marketer. In fact, a lot of affiliate marketer makes so much money without creating any Youtube videos.
If you want to learn more about affiliate marketing and how you can make a lot of money online, feel free to click the image below.
Have any question about this review? Leave them below 🙂